After a quick Google search for camas bulbs for sale in Victoria, one of the first hits I came across was GardenWorks on Oak Bay Ave. I wasn't sure if they had what I was looking for, but I decided to pay them a visit anyway and see what they could tell me about growing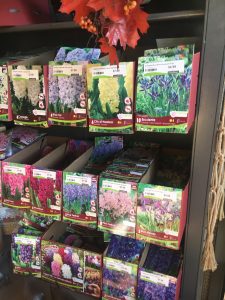 camas. After a look around the store, I found camassia quamash (common camas) bulbs for sale, but decided to ask the staff in any case. Good thing I did. It turns out that common camas is more ornamental than edible. Also, I found out that growing camas from seeds takes upwards of 7 years! Bulbs it is. This might have been a dead end, but luckily the staff recommended an alternative, Saanich Native Plants located at the Haliburton Community Organic Farm in Saanich.
I started by emailing Saanich Native Plants, telling them about my inquiry project and my hope of getting ahold of edible camas bulbs. I immediately got a reply from Kristen, informing me that they indeed had what I needed on site, nice! We exchanged a few emails and she let me know that I would have to grow the plant outside, but in a planter on the balcony would be fine. All set.
I drove out to Haliburton Organic Farm on Tuesday morning and talked to Andrea who took me to the camas bulbs, helpfully already in small planters. There were two sizes, small and large, two bulbs to a pot. Naturally the bulbs had not started to flower yet, but she broke one pot open and showed my how the bulbs had already begun to grow shoots beneath the soil, cool. I chose the larger of the two bulbs, and on Andreas advice, also bought a small buttercup which she said was a natural compliment to camas. First Nations traditionally planted the two plants together, the buttercups also helping mark the camas fields with their bright yellow colour. Saanich Native Plants is a wonderful business and the staff knowledgable and helpful.
My final stop on the way home was Canadian Tire, where I bought a tall flower planter, regular planting soil, and cheap garden tools. Next step: wait until the weekend and plant those bulbs!